Stuff the Tree Campaign
https://www.facebook.com/BlackjacksRoadhouse/videos/1473278496075379/
Not only is Christmas a time for joy and celebrations, it can also be a time of hardship for many families. We've started a campaign to collect food for the Leduc & District Food Bank Association called "Stuff the Tree!" Let Clarence and Krysta tell you about it, and we hope those of you who can to bring down your donations. Any little but helps.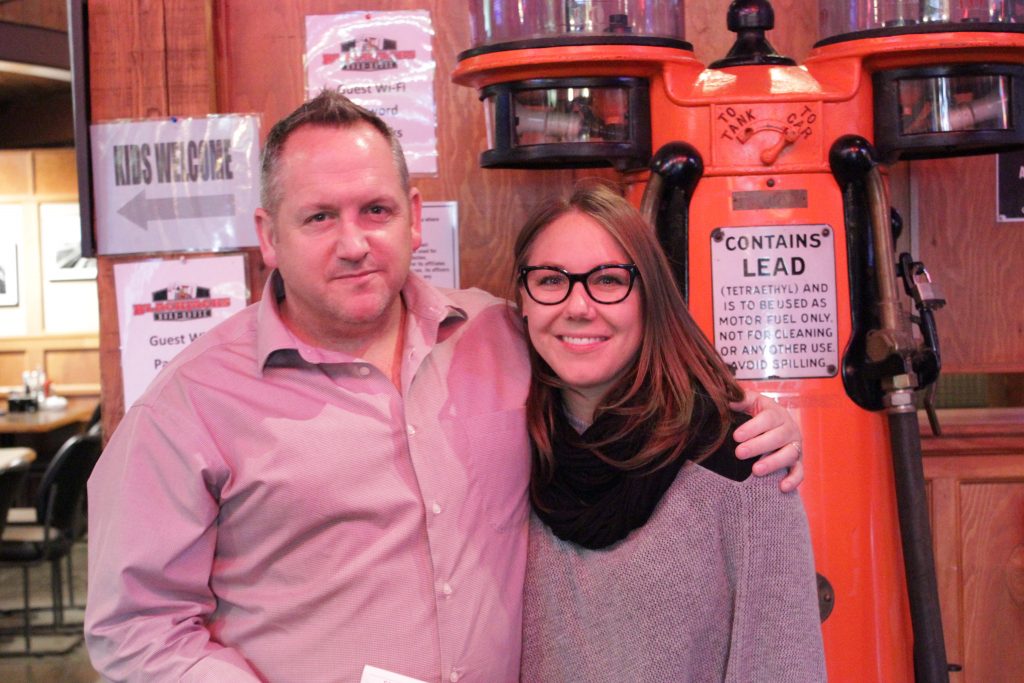 Save The Plane Jason Trenholm, president of the Royal Canadian Legion Leduc Branch No. 108 came by Blackjacks Roadhouse to meet up with Krysta Shields after the Save the Plane event that took place on October 14th, 2017. Krysta presented Jason with a cheque for over $5000 that was raised through tickets sales to see a great band, Jelly Bean, and through the 50/50 Draw and Live Auction. the plane is that much closer to regaining its former glory.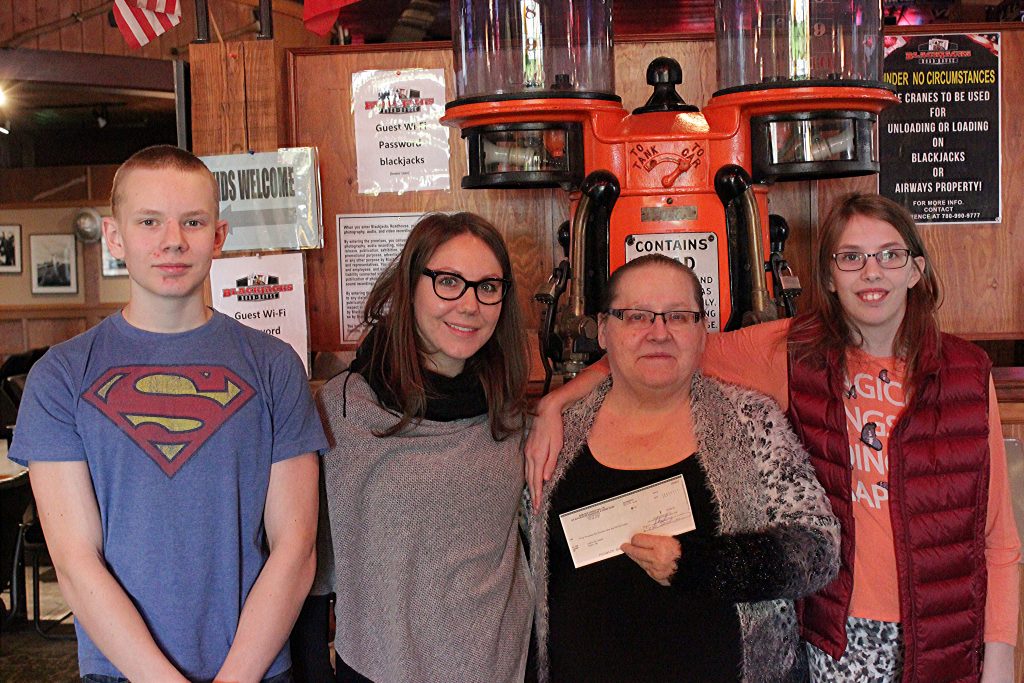 One Last Kiss – A Murder Mystery with the 831 Black Knights Royal Canadian Air Cadet Squadron of Leduc On Tuesday, October 24th, Krysta Shields presented Heike Gauer, the fund consultant of the 831 Black Knights Royal Canadian Air Cadet Squadron, with a cheque for $5609, as well as another $1020 from online ticket sales. After all was said and done with tickets sales and the silent auction, the cadets were able to raise over $10,000 from their Murder Mystery event at Blackjacks Roadhouse. A big thank you to everyone who came out to support the cadets. They couldn't have done it without you!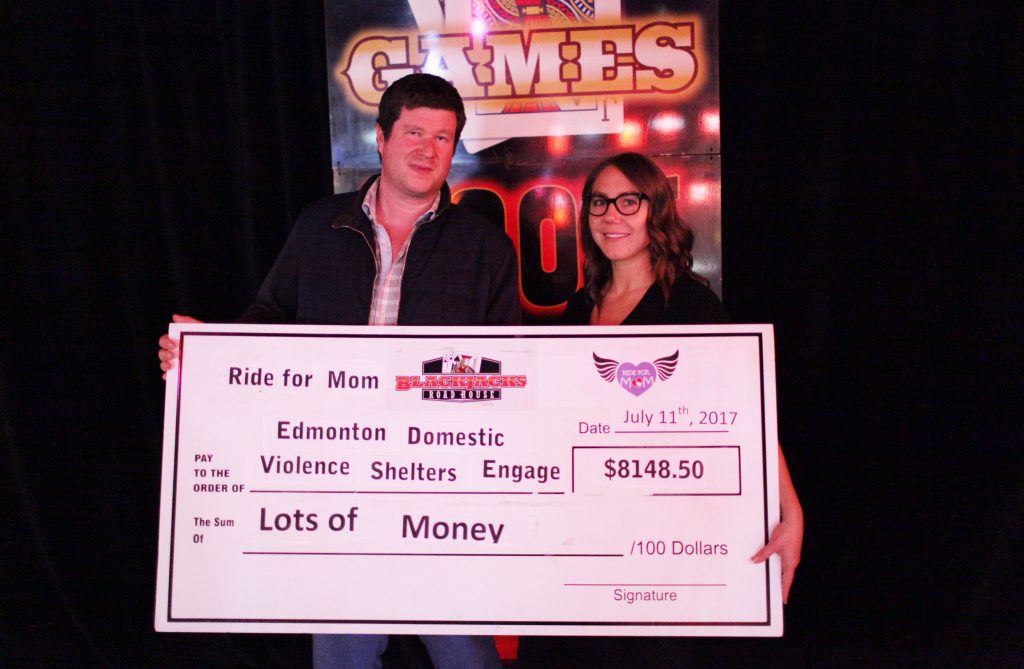 Ride for Mom On Tuesday, July 11th, Krysta Shields of Blackjacks Roadhouse & Games Room presented Eoin Murray of the Alberta Council of Women's Shelters (member of EDVSE) with a whopping cheque for $8148.50 that was raised during the inaugural Ride for Mom on May 13th. Although it was a soggy and chilly day, many brave riders came out to Blackjacks in support of a great cause. Let's make the 2018 Ride for Mom even better, so we can help even more people in need.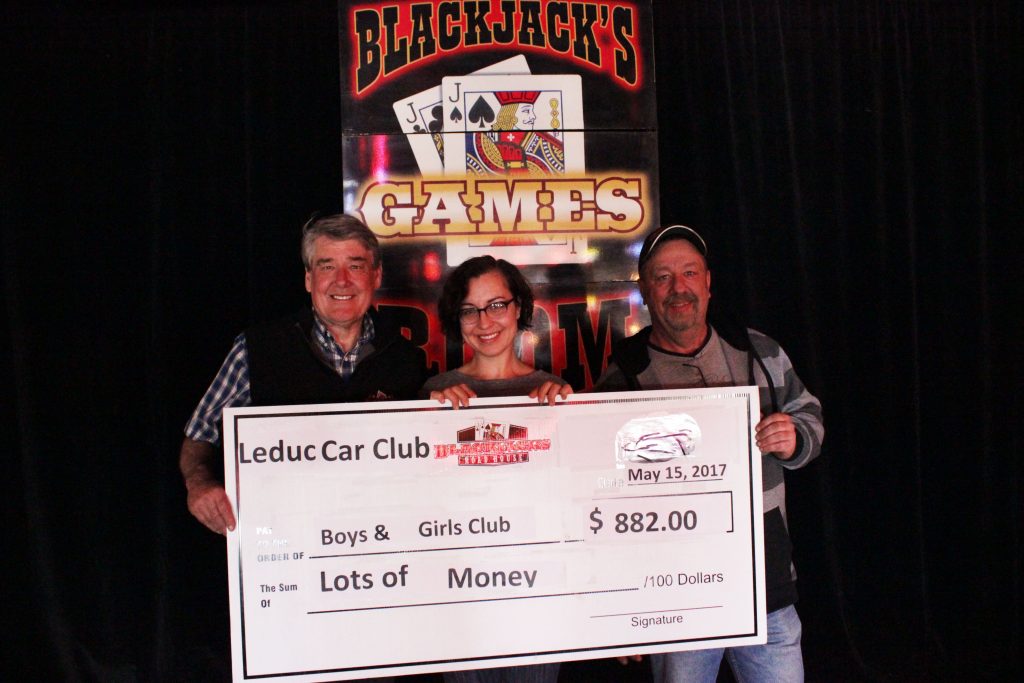 Blackjacks' Ice Breaker Show & Shine Clarence Shields of Blackjacks Roadhouse & Games Room and Darrell Morawski of the Leduc Car Club present Shawna Bissell of the Boys & Girls club with a cheque for $882 that was raised during the Blackjacks' Ice Breaker Show & Shine and Swap Meet. Thanks to everyone who came out to check out some cool old cars, and to support a good cause. Let's make our second installment in 2018 even better!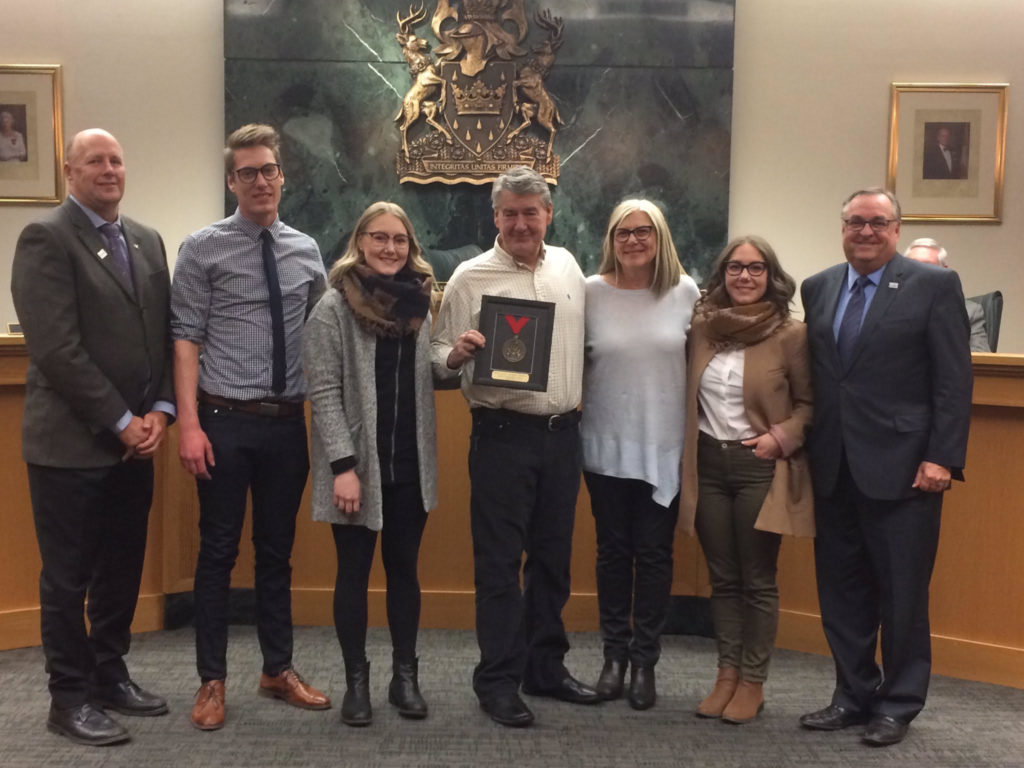 Leduc Achievement Award Council recognized the Shields family for their contributions with the Leduc Achievement Award. The award was specifically for the annual Christmas Day dinner they hosted at Blackjacks Roadhouse but has been a longstanding tradition which started with Jack Shields nearly 40 years ago. Clarence Shields and his family brought it to Leduc first at the Nisku Truckstop and now at Blackjacks. Krischke said the Shields have become an integral part of the community and have helped many local organizations. Shields credited his father for instilling a sense of community and the importance of giving back in him. Photo courtesy of: Nouran Abdellatif/Leduc Rep Staff Write up courtesy of: Leduc Rep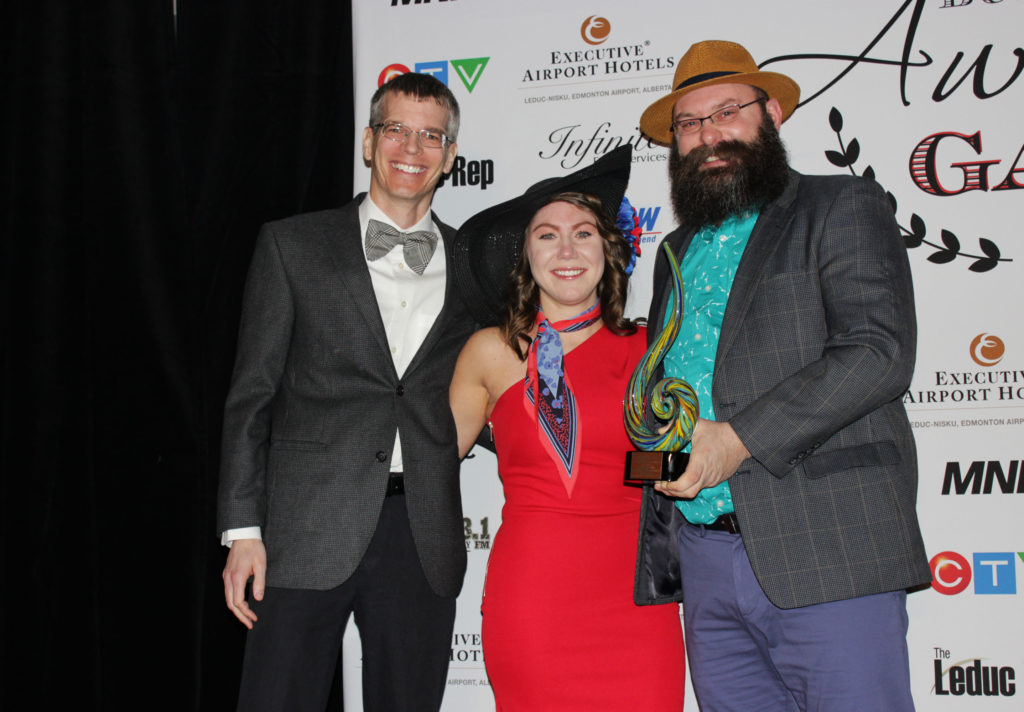 Leduc Chamber of Commerce Business Awards Gala Clarence Shields and the entire team at Blackjacks are proud to announce that our very own Krysta Shields was awarded the honour of Young Business Leader of the Year at the Leduc Chamber of Commerce Awards gala on Saturday, March 4th, 2017. Krysta was presented her awards by the President of the Leduc Chamber of Commerce, Richard Horncastle (left), and the Honourable Shaye Anderson (right) the MLA for Leduc-Beaumont.   Krysta's family, friends, colleagues, and the entire team at Blackjacks wish her may years of continued success, and we cannot wait to see what the future hold for her and our community.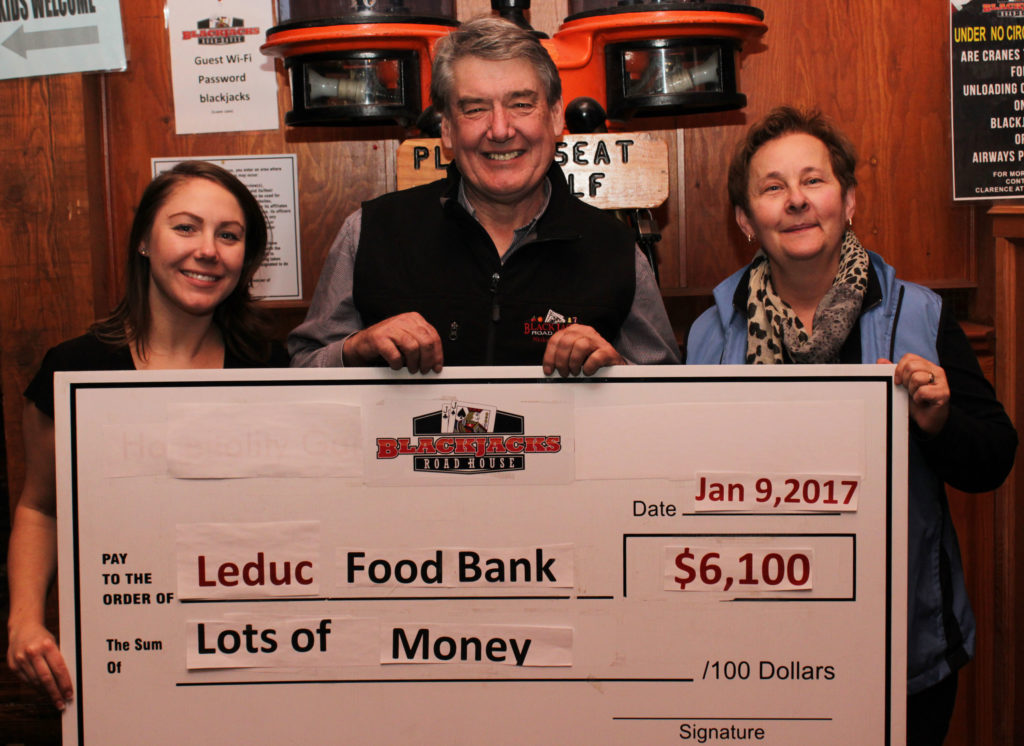 Christmas Dinner Buffet During our Christmas Dinner Buffet at Blackjacks, our guest who walked through the door helped us raise $6100 and nearly 500 pounds of food. Thank you to all who came out, and a special thanks goes to the World Renowned St. Peters Lutheran Church Community Choir for serenading us with their beautiful renditions of classic Christmas carols.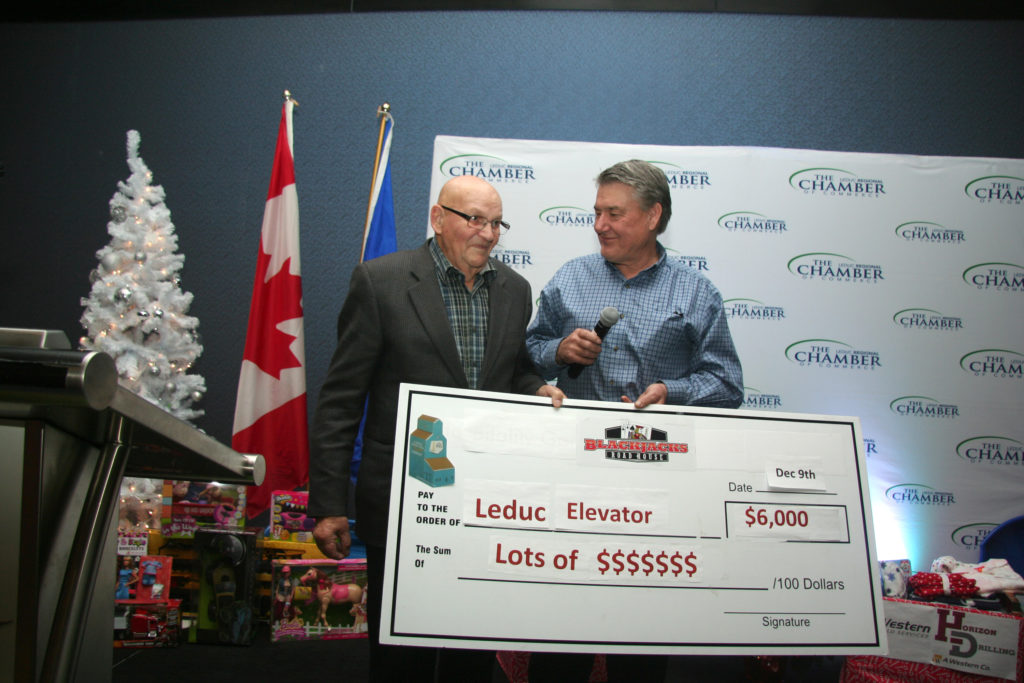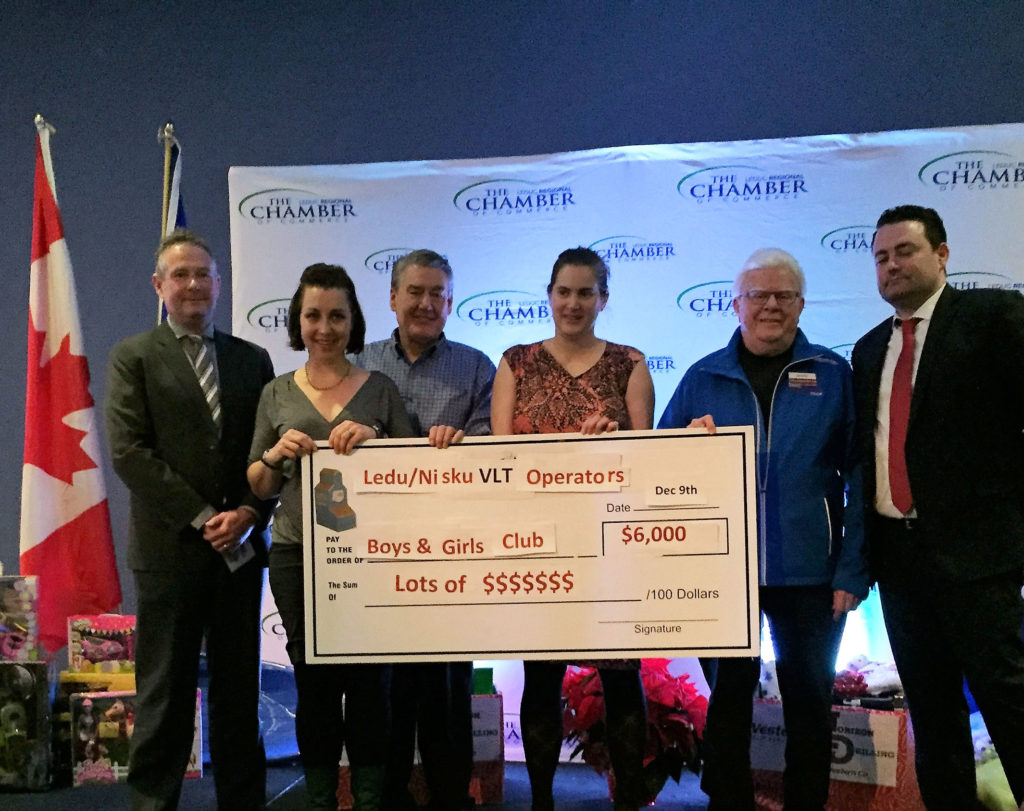 Spirit of Giving Luncheon Blackjacks was honoured to attend the Spirit of Giving luncheon on December 9th, 2016. It is great for Blackjacks to be able to give back to the community. Clarence Shields presented the Leduc Grain Elevator, a place near and dear to his heart., with a cheque for $6000 on behalf of Blackjacks. Clarence and the Leduc/Nisku VLT Operators also presented the Boys and Girls club with a cheque for $6000. Here's a video of Krysta Shields the marketing manager of Blackjacks Roadhouse, and Jocelyn Whaley of V3 Companies of Canada talking about the CanBuildit Project for 2017, which is in support of the Leduc and District Food Bank. If you would like to learn how to give back to the community by joining this great cause, please visit our website at www.canbuildit.com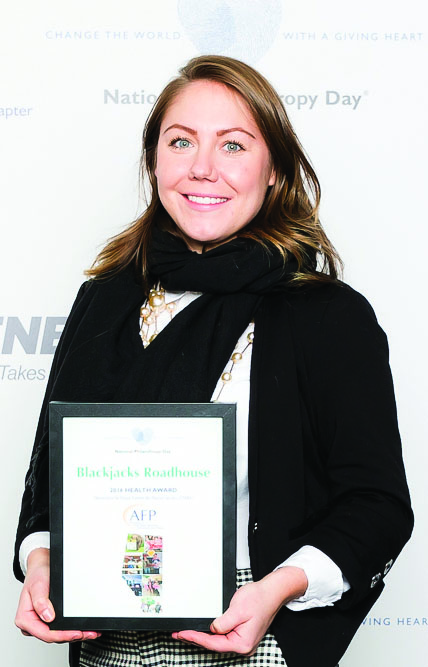 Association of Fundraising Professionals National Philanthropy Day On November 10th, 2016, The Association of Fundraising Professionals held their National Philanthropy Day annual awards luncheon to recognize the thriving entrepreneurial scene in the Edmonton area. The awards are to highlight the contributions to Edmonton's philanthropic organizations by those in the community. Blackjacks Roadhouse & Games Room is proud to announce that we were the recipients of the 2016 Health Award. We were nominated by Shock Trauma Air Rescue Service (STARS) for the multiple donations and fundraising projects spearheaded by Krysta Shields over the last number of years. We are so proud to live in such a vibrant community and would like to thank everyone who has participated in these events. Your support and contributions do make a difference.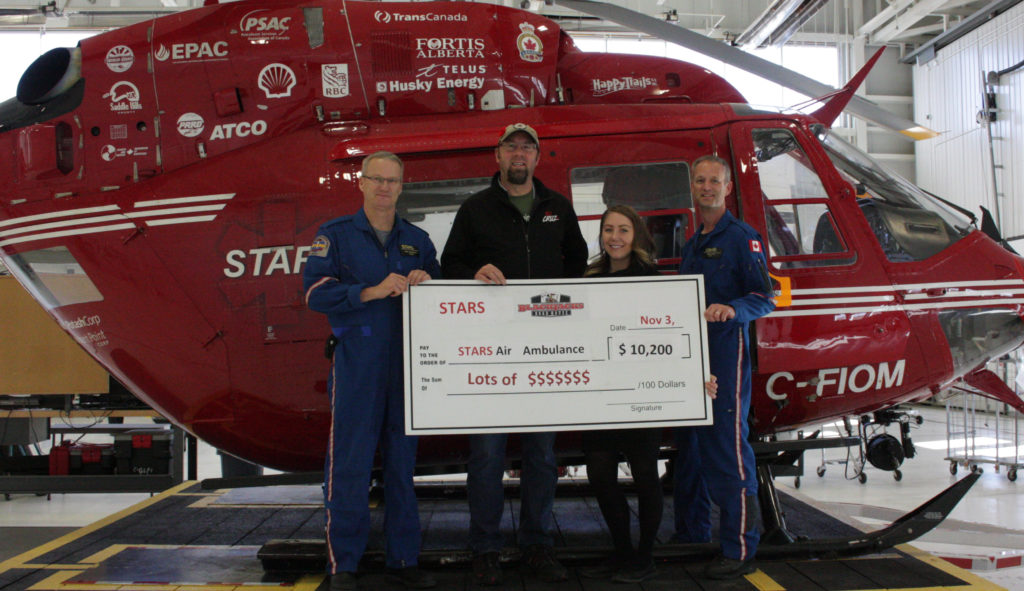 Blackjacks is proud to announce that our 2016 mini putt gold tournament was a huge success. We would like to offer a huge thank you to Lochlin Cross of 95.7 Cruz FM, our hole sponsors, and all the golfers who came out to support the event. Without all of you, we would not have been able to raise $10,000 for STARS Air Ambulance.
---
Blackjacks makes it on the cover of Canadian Trucking Magazine.

Canadian Trucking Magazine is a monthly online trucking industry magazine, widely read in the industry.  Blackjacks is honered to be recoganized as one of the most popular trucker Roadhouses in Canada, Read More:  http://issuu.com/ctm-magazine/docs/november_ctm_2015_web_edition
---
Blackjacks Roadhouse is honored to be being selected as the start and finish on

June 10 & 11th, 2016

,  10th ride for the Edmonton Ride for Dad, supporting Prostate cancer.
Attracting close to 1,200 supporters ranking it one of the largest Charity Bike Runs in Alberta. Raising over 1.8 million in support for research to finding a cure for prostate cancer. We are presently planning two events to be staged at Blackjacks: Saturday May 7th, 2016 Ride for Dad Silent Auction Media, Sponsor, Volunteer, live auction, 50/50 draw Live entertainment. 8 pm to midnight Goal to generate enough funds to cover cost of staging Ride for Dad estimated at $60,000 so that 100% of all funds raised in the ride goes directly to finding the cure. Friday June 10th, 2016 Pre Registration Ride for Dad Live entertainment 7- pm to Midnight Saturday June 11th, 2016 Ride for Dad Start 7am registration, 10am Ride BBQ 4-6pm Wind-up Party /Volunteer Appreciation Live entertainment 7-pm to midnight. Would your organization be interested in assisting us in selecting the live entertainment portion of these events? Blackjacks will provide all the required sound, lights and required personnel. Sponsorship recognition and performance fee for those groups willing to perform.
---
Blackjacks 1st annual Mini Putt Challenge a big success.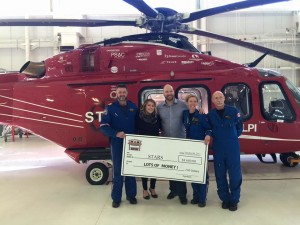 Blackjacks Roadhouse set up a full 18 hole Mini Putt course in the parking lot on September 18, 2015 to rasie funds for STARS Air Ambulance.  Fourteen companies sponsored and brought their creative holes and eighty mini putt golfers took part in a fun day.  STARS benefited with $8,650.00 raised.

Blackjacks Owner gets major award.
Clarence Shields receives volunteer recognition from City of Leduc.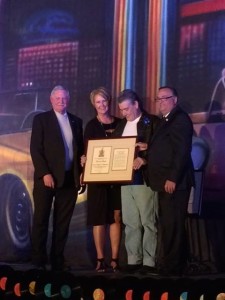 The City of Leduc has recognized Clarence Shields with the Citizen of Distinction for 2014. "I was humbled to receive the 2014 Citizen of Distinction Award for the City of Leduc. To be recognized in front of 650 volunteers, who give so much back to our community was an incredible honor. To all of you who volunteer hats off!!! You truly do make a difference." Said Shields at the presentation. When you see Clarence around the Restaurant, let him know that we all appreciate what he does for the Leduc and Nisku area..