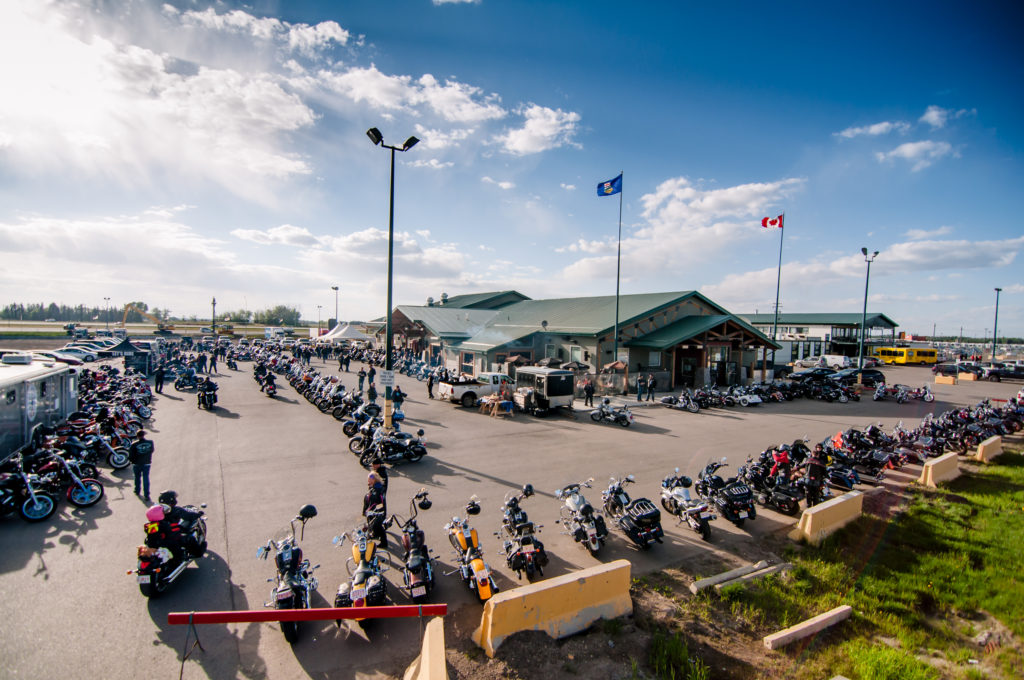 Blackjacks Roadhouse is the Expert in helping your club or group stage a meeting, poker run or biker charity event.
Blackjacks Roadhouse has established itself as one of the best Biker Friendly facilities for poker runs and charity rides in Western Canada. We proudly host major charity bike runs such as the Edmonton Ride for Dad, Ride for Sight, Ride for Mom, Wounded Warriors, Military Minds along with numerous local club rides and events. We are also the home and meeting place for numerous clubs such as BACA (Bikers against Child Abuse), Rig Riders and the Black gold Beamers (BMW). We offer our 100 seat second floor meeting area FREE of charge to all bike clubs.
Our 24/7 facility is equipped to provide your club with all the services you need to stage a successful ride or charity event. The following is a list of services we provide:
Free 2nd floor 100 seat meeting area. Includes PA system, Smart TV, private bar, elevator service and private washrooms

Tents, tables, chairs, BBQ's, Portable Bars, stage, and sound system for outside events for up to 700 people.

Inside seating for up to 600, full stage and sound system, HD cameras and giant Big Screen projector TV's and full service catering from BBQ's to fine dining.

Our sister facility The Airways Country Inn is located next door offering special room rates for club events, shower and laundry services, free WiFi, off sales for beer & liquor and ATM.

We offer Free RV parking and camping for ride participants.

Blackjacks features a 24 hour full service restaurant and a Bar and Gaming area open from 10:30AM to 1:45AM daily. Free WiFi, ATM's on site and 11 acres of parking.

Out location along Highway 2 and the Nisku Overpass makes us and ideal meeting place with easy highway access from anywhere in Edmonton and Alberta.
For more information on the service we provide Please do not hesitate to Contact Blackjacks Event Coordinator Krysta Shields at 780-701-7295 or krysta@blackjacksroadhouse.com.
Located at 2110 Sparrow Drive, Nisku, Alberta, Canada T9E 8A2