Events are what we do best. From fundraisers to poker runs, we've got you covered. Our Blackjacks team can make your dream a reality. All you have to do is present us with an idea, and we'll run with it. If you're starving for ideas, check out what we've got coming down the line.
Guest Capacity for Entire Bar Event
Seated Lunch / Dinner (Bar & Restaurant) : Up to 350 guests
Live Music Event : Up to 200 guests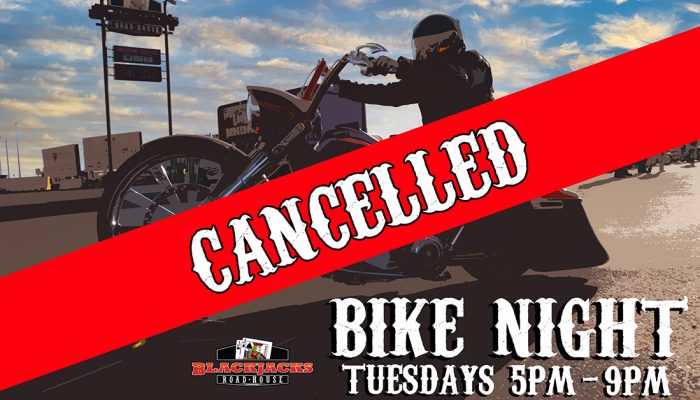 It's official!!! Tuesday Night Bike Night is back! Rev those engines and ride on out to Blackjacks Roadhouse every Tuesday from 5PM – 9PM all summer long. We've got our famous $6 burgers from the food truck, but they still taste the same as you remember. Come down and join us. We promise you won't find a better place to spend a Tuesday night.
As it stands rights now, we are only allowed 200 people outside, but it's a start. Please keep the rules in mind, and maintain 6 feet for social distancing. We don't want to get in trouble. We want to be open for all of you. Please follow us regarding the rules as they could change over the summer. 
International Female Ride Day
Calling all WOMEN WHO RIDE to join us for an inclusive celebratory International Female Ride Day Lunch/Event. Hosted by The Litas Edmonton & Blackjacks Roadhouse, we'd like to invite and welcome ALL Women's motorcycle groups/networks/riding clubs in Alberta to join the fun!
GOOD WEATHER PLAN:
The Litas Edmonton will be hosting a ride, meeting at the Husky/Esso in Acheson for a (Ladies only) pre-ride coffee/gas stop/quick visit (26304 Township Rd 531A, Acheson, AB T7X 5A3) between 10:30-11:30am and then departing for a 1.5 hour (130km ish) ride.
KICKSTANDS UP: 11:30am SHARP!
LADIES who ride from all groups or no groups welcome!
We will end our ride at Blackjacks at 1pm for a BBQ/drinks/hang out. FREE Burgers (provided by Blackjacks) and FREE beers (provided by Original 16) for ladies who ride who attend this event.
If you can't make the group ride or your group/you and your friends would prefer to go on your own ride beforehand and meet us for lunch at Blackjacks afterwards, please feel free to do so.
IN THE EVENT OF BAD WEATHER:
We will still meet at Blackjacks for Burgers and drinks at 1pm and have an indoor section of the restaurant sectioned off for our ladies-only lunch to celebrate WOMEN WHO RIDE!
*We will make a judgement call regarding weather the night before or the morning of the event and post an update here in the event page*
*The Litas Edmonton will lead a pre-ride safety meeting addressing riding etiquette for a larger group ride and we will split into multiple groups should we feel necessary to do so for the safety of all riders*
More updates to follow.
Our Classic Car Meet & Greet will be every Sunday from 11AM – 3PM here at Blackjacks Roadhouse. We invite you to cruise out to our parking lot and show off your classic ride.
We will have a large section of the parking lot sectioned off just for the people who bring out their classic cars, or unique rides people wouldn't normally see.
You don't have to be a member of any car club, or even know anyone. Just come out, and we promise you'll end up socializing with fellow gear heads. 
See you on Sundays!
The Fourth Annual Ride for Mom: Take Two
The Ride for Mom is a motorcycle event to raise awareness for domestic violence through a one day motorcycle ride.

Our goal is to assist Riseup Society Alberta and other local organizations to end domestic violence. Over 10,000 women, their children, and seniors were assisted by local agencies. With the drastic increase in cases of domestic violence cases in since the onset of the Covid-19 pandemic, Ride for Mom could use your help more than ever.
Too often, those faced with situations of abuse feel they have no voice. The Ride for Mom is the voice to help victims regain control of their lives and to live in a world free of domestic violence.

Please join us on Saturday, May 8th, 2019 to help raise funds to give a voice to those who need it most. The ride will begin and end at Blackjacks Roadhouse & Games Room, which is located at 2110 Sparrow Drive in Nisku, Alberta.
Ride Information Coming Soon!
Route Map Coming Soon!
For more details as they become available visit 
www.rideformom.ca
, or visit the official Ride for Mom Facebook Page.
During these times of extra cleaning and social distancing, we are still able to accommodate you and your party. Whether it be a small group on our indoor patio, a medium sized group on our upstairs mezzanine, or a larger group in the bar, we have you covered.
SEATING CAPACITY WILL CHANGE BASED ON YOUR EVENT
Here at Blackjacks, we ask that all patrons adhere to social distancing rules, and use our hand sanitizing stations that are located around the bar. If we all do our part, we can ensure that everyone has a fantastic time at their event, and that we can continue to serve you. than you for your understanding. We look forwarded to being a part of your event. Thank you for choosing Blackjacks Roadhouse & Games Room. 
"Amazing food. Excellent service. The burgers were so delicious. You will leave with a full belly!"
"One of the best places to eat & drink at in Alberta!"
"I thoroughly enjoyed this place when I stopped in Nisku. The food was excellent, the staff was very courteous and the service was extremely fast!!"
"The best bang for your buck. Great proportions and great tasting food! "